The Ufodo Back to School Project is one of our Back to School Projects. This project spanned 2 days and included the age-specific numeracy and literacy lessons. It was a resounding success and we are grateful you trusted us!
Our first BTSP was PFF organising free barbing sessions for children in Awka Anambra state in an effort to get them groomed and ready to head back to school. You can check out the project by clicking on the link below:
https://preciousfountain.org/event/back-to-school-barbing/
Our second BTSP was PFF sending food and writing materials to children in Lagelu LGA Ibadan Oyo State. You can check out the project by clicking on the link below:
https://preciousfountain.org/event/gift-a-child-a-meal/
This Ufodo mission is the 3rd anniversary of the PFF Back To School Project. The idea for the BTSP is to empower select Nigerian children with the resources necessary to resume school effectively. Our target is children in primary school and students recently enrolled in secondary school.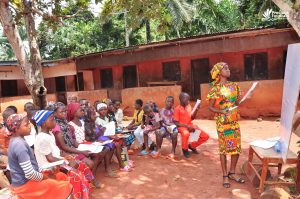 Local Coordinator and Community Liaison
PFF partnered with Christ True Mission, a local denomination indigenous to the community. Adoni Levi, a local missionary served as the PFF Liaison to the community. At the end of the event, PFF received kind words from Levi and other leaders in the denomination and community.
Beneficiary Demographic
The BTSP 2020 provided school bags, books and writing materials to children in Nursery, Primary and Junior Secondary school in Ufodo Enugu State. PFF has for 3 years held projects targeted at improving literacy and numeracy among children in the community and this time decided to additionally empower the children with materials that will enable them start school in earnest.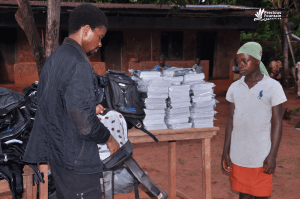 Financial Breakdown
Bags: 320,000
Books: 87,000
Shipping: 13,000
Production of lesson materials: 30,000
Transportation of volunteers: 40,000
Total :490,000
Total amount raised both from GoFundMe and local contribution: 504,000
Bags and books were locally manufactured in Nigeria.
Feedback from the community:
The community was full of gratitude and kind words. A message from the Bishop of the local community denomination read
'I want to thank you for your gifts of school bags and exercise books to the children, my God will you back in 1 million folds In Jesus Name. Thanks & God bless you.'
We were inundated with message which resembled this one.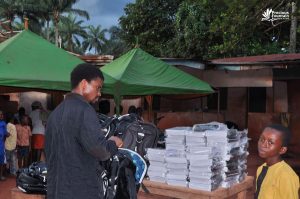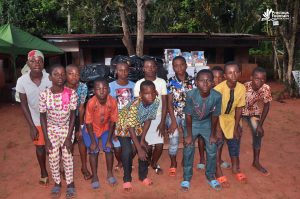 How to support BTSPs
To support the next BTSP, kindly register to our mailing list  https://docs.google.com/forms/d/e/1FAIpQLScFjyc-hbERCornT6wFgg7582oJn9QvD3k3uj3fwc_Xp5NKJA/viewform?usp=sf_link
You'll be the first to know when PFF announces the next BTSP.
Kindly click on the link below to see images from the Ufodo Mission Project.